Lefkada situated between Kefalonia and Corfu, has been characterized as the most picturesque of the Ionian islands. It has unique natural beauty, green mountains, a good climate and beautiful beaches such as Porto Katsiki, Egkremni, Kathisma, Gialos, Megali Petra, Kavalikefta, Avali, Afteli, Agiofili, Ammouso, Kastro, Vasiliki, Mikros Gialos, Agios Giannis, Gura,  and Precipipes which impress with their incredible turquoise colors. These beaches are among the most beautiful beaches in Greece. Some of them are surrounded by forests and others by impressive cliffs.
Lefkada is connected to the mainland with a floating bridge and it is the only Greek island that you can reach by car. The channel which separates the island from the rest of Greece was first dug by the Corinthians in 500 B.C. when the island's economy was flourishing.
The ideal combination of waters and mountains that the island offers abundantly, awaits all of us to enjoy its uniqueness.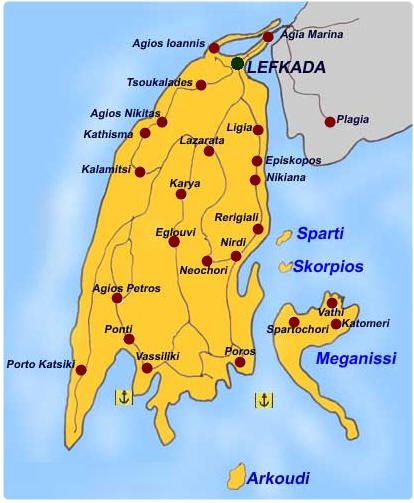 How to reach Lefkada
If your start driving point is Athens, use the national road Athens-Patra. Then, just before Patra, cross the Rio-Antirrio bridge and continue driving in Etoloakarnania province, heading to Amfilohia. It is possible to bypass Agrinio town by using the Ionian highway. When you reach Amfilohia, follow the signs to Lefkada and after 60km you arrive at your destination.
If you head to Lefkada from North Greece you need to take Egnatia highway towards Ioannina. When you reach Ioannina head to Preveza and then go under the tunnel bridge Preveza-Aktio. Follow the signs to Lefkada and you will reach your destination after 20km.
You can even come to Lefkada by bus using KTEL from Athens, Thessaloniki, Patra, Preveza, Igoumenitsa and Agrinio.
The nearest airport to Lefkada is 15km away, called Actio. Domestic flights connect it with Athens, Sitia-Crete and other Ionian islands such as Corfu, Kefallonia and Zakynthos. Also, there are charter flights from many European cities.