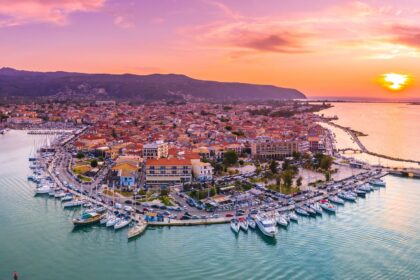 Explore Lefkada
This untamed Ionian Sea island is so much more than world-famous beaches and windsurfing spots
Lefkada's connection to the mainland by a long causeway and floating bridge serves as a major travel advantage since you don't need a boat to reach it. This connection has influenced Lefkada both historically and culturally as the island's traditions are a fusion of neighboring islands and the regional mainland.
The island's wild and exotic character on the west side is counterbalanced by a serene east coast filled with delightful bays and islets. In contrast to the cosmopolitan beaches, the mountain villages are rustic and feature shady main squares. Visitors can enjoy a wide range of good food, from fresh fish to frigadeli (skewered liver wrapped in suet); listen to cantathes (traditional Italian-influenced serenades) as well as mainland folk music; discover gorges and deserted monasteries; legendary capes and world-renowned beaches; observe the main town's unconventional use of corrugated iron as an exterior surface for upper levels of buildings; enjoy festivals and other cultural events; and leave with unique local products.
Explore
1. AGHIA (SANTA) MAVRA CASTLE
Located opposite the bridge before crossing over to Lefkada, this 14th century construction, developed by the Venetian Giovanni Orsini and duly utilized by the succession of powers – Ottomans, French, Russians, British and Italians – is a must-see. Large moats and powerful bastions have been preserved to this very day along with a 19th century lighthouse and the Aghia Mavra chapel, from which the island's former name, Santa Mavra, was derived. The view is fascinating. The nearby Gyra lagoon and its endless stretches of sandy beaches seem to blur the boundaries between the island and the mainland.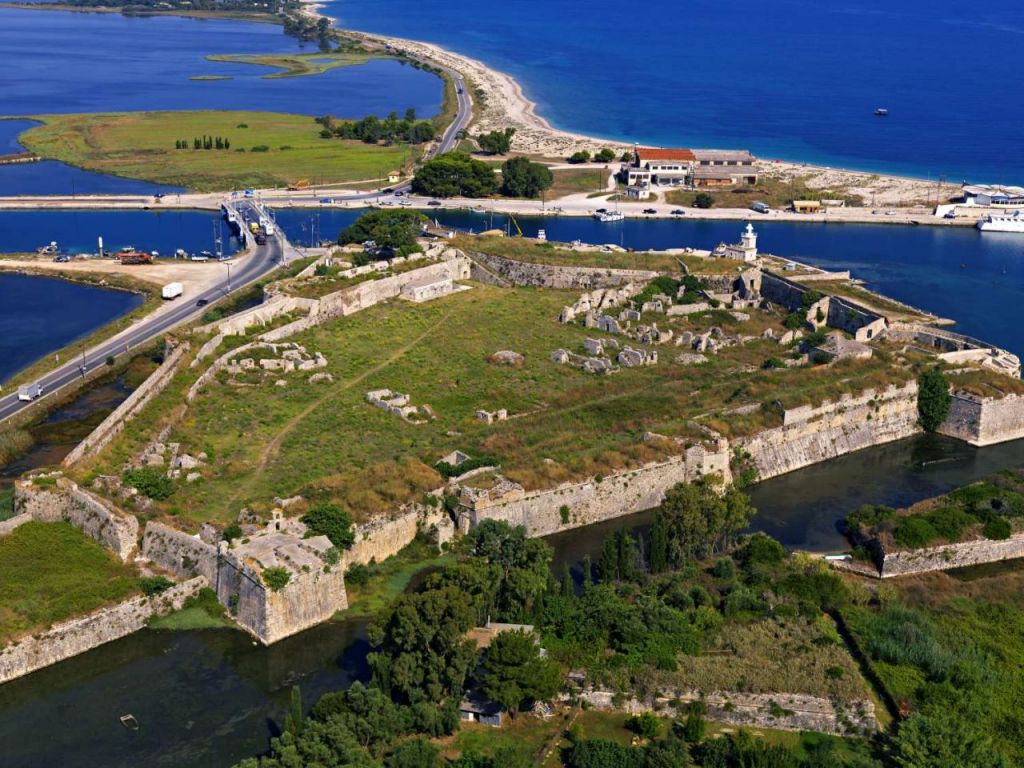 2. CAPE LEFKADA
Also known as Kavos Kiras, Niras and Doukato, Cape Lefkada is located at the island's southernmost point. The lighthouse that stands here was built in 1890. The location's pure white rocks inspired Lefkada's name, meaning "whiteness" in Greek. A Homeric "white rock" reference and an ancient temple of Apollo are also linked to this location. According to legend, this cape is best known as the spot from which heartbroken souls, including the lyrical poet Sappho, jumped to their deaths into the churning sea below.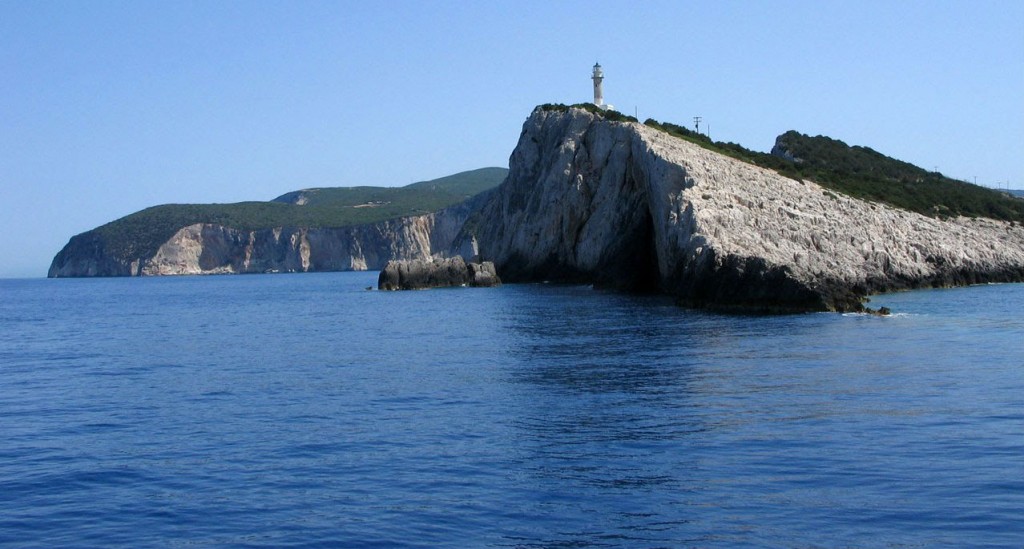 3. PANAGHIA FANEROMENI AND OTHER MONASTERIES
The Panaghia (Virgin Mary) Faneromeni, the only fully functional monastery on the island, located above the main town, is the island's protector and many locals choose to have their children baptized here. If interested in seeing some of the other somewhat abandoned monasteries, the three most elegant examples to be found are Kokkini Ekklisia (Red Church), close to Platystoma; Asomato Arhaggelo Michail in Vafkeri; and Ai-Giannis Sernikaris in Vournika. All three are reachable via dirt roads.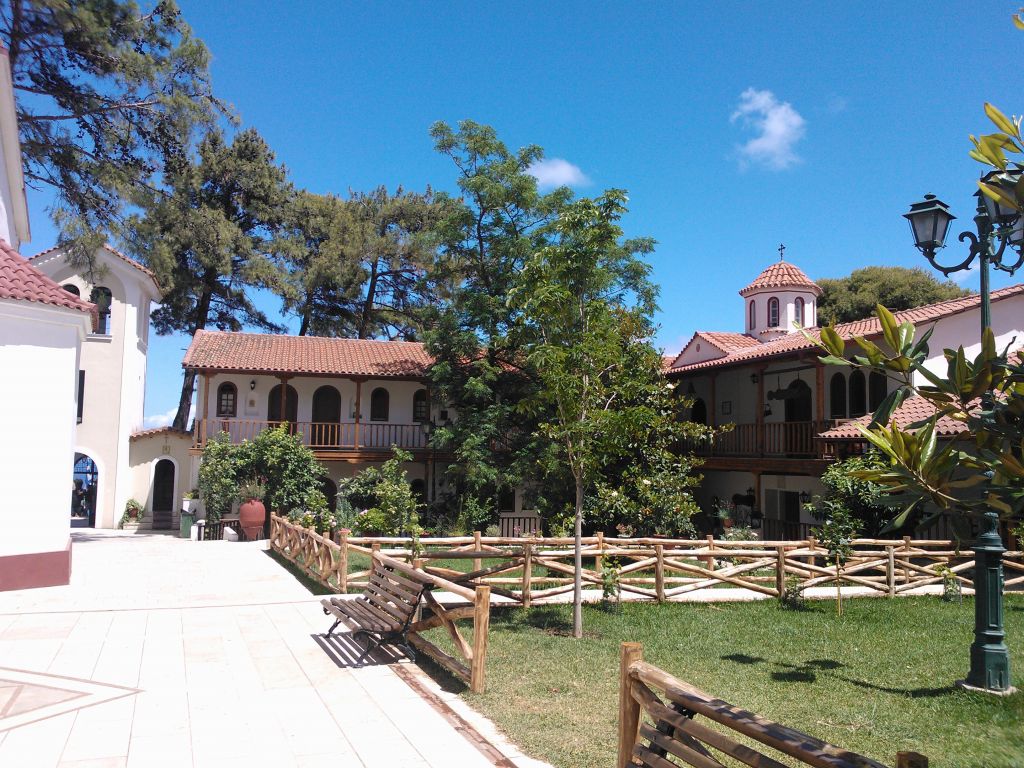 4. TIN TOWN
Brightly colored houses with corrugated iron exterior surfaces at their upper levels and stone-built ground levels, bougainvilleas, climbing plants and lanterns all grace the main town's alleys. The iron-walled houses – developed as a protective measure against earthquakes – are a dominant main town feature, and create a delightful setting which captures the hearts of visitors. An initial Venetian town plan was updated by a British version intended to offer greater earthquake security, hence the tin walls. The town's churches, built in the 17th and 18th centuries – Aghios Minas, Aghios Spiridonas, Aghios Nikolaos, Isodia Theotokou (Presentation of the Virgin) and Pantokratoras – were influenced by western architecture, while their icons inside carry Ionian Island influences. Enjoy a stroll along cobbled Mela street, visit the Phonograph Museum on a parallel back street, the archaeological museum and the impressive library featuring a collection of art from the Ionian islands.