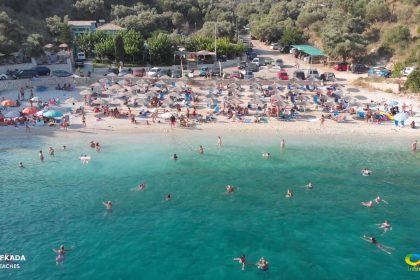 Surfing, kitesurfing, sailing, wakeboarding, water ski: for sea sports enthusiasts, Greece knows how to deliver adrenaline-inducing experiences
Ideal conditions and unparalleled Greek natural beauty have made Greece one of the most popular destinations for sports activities at sea. Sailing, scuba diving, kitesurfing and wakeboard. Which are the most beloved destinations for water sports in Lefkada? Discover them here!
Discover impressive underwater caves with stalactites, shipwrecks (that date back to the Byzantine period and earlier), rock walls, breathtaking reefs, ancient amphoras, Mediterranean coral, fossilised plants, sponges and a multitude of fish. Scuba diving in Greece, where the water provides superb visibility, is a journey through natural underwater worlds and a search for treasures left behind by ancient civilisations.
Sport Sailing: the most popular events in Lefkada
What is it that makes sailing destinations in Lefkada, so unique? The often perfect conditions that prevail in the Greek seas make sailing an exciting but safe activity for both beginners and experts? The close contact with nature at its finest, the deep blue of the open sea joining seamlessly with the azure of the cloudless sky? The singular beauty of the islands, the hospitable islanders, the secluded bays and the local festivities that always accompany rallies?
All of the above, not to mention the fact that summer starts here early and ends late, with temperatures hovering around 30 degrees Celsius, warming the wind and the waters. For all these reasons, many rallies take place in Greek waters each year and every time their organizers set a different course.
Surfing, water ski, wakeboard: the most popular destinations in Greece
On most beaches you can go windsurfing, and if you're a beginner many beaches have schools and instructors on hand so you can take lessons as well as rent equipment. Vassiliki and Agios Ioannis on Lefkas provide special accommodation options where both you and your equipment are welcome.