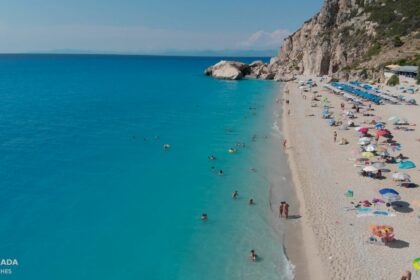 Lefkada is a magnificent island in the Ionian Sea. The island of Lefkada is a popular holiday destination and it is easily accessible from mainland Greece. On Lefkada Beaches Travel Guide, you can see how to get to Lefkada and find vacation tips about the best beaches, villages and experiences. Find info about island hopping in the Ionian Sea and plan your trip!
Vacation in Lefkada
Lefkada is one of the most beloved islands in the Ionian Sea. A trip to the island is all about amazing natural sceneries and dreamy beaches, popular around the world! The island is also great for outdoor activities and nightlife, as there are many water sports centers, hiking clubs and entertainment venues to choose from!
How to get to Lefkada
You can easily get to Lefkada with your own vehicle, as it is connected to mainland Greece via a bridge. There is also a frequent public bus service from Athens and Thessaloniki. The trip duration from Athens and Thessaloniki is around 4 hours. If you're flying into Greece, there is an international airport in Aktion, 20 minutes to Lefkada by car.
What to do in Lefkada
A trip to Lefkada can be summed up as the ultimate holiday experience! There is a plethora of amazing beaches, both popular and remote, where you can swim, enjoy cocktails and relax. The food is amazing, combining the Greek culinary tradition with a strong influence from the diverse cultural past of the island. You can also go hiking, try windsurfing, go island hopping and see amazing waterfalls!