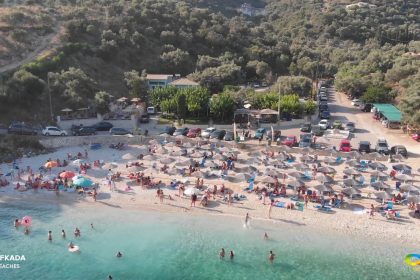 Travel at your own speed between the Ionian islands. With their superb beaches, excellent marinas and safe harbours, sailing enthusiasts will have the experience of a lifetime.
Ithaca: The kingdom of Odysseus. Directly opposite the northern shores of Kefalonia lies Ithaca, a high, narrow island indented with coves. The main harbour of Vathy lies at the back of a deep bay and could not be safer or more hospitable. A dramatically beautiful island, Ithaca is not as tourist-orientated as its bigger neighbours. Don't fail to stop for a swim at Gidaki, in the north. Bluer-than-blue waters surrounded by lush greenery await you.
While you're in the area, the smaller, well-wooded islands Kalamos, Kastos and Meganisi will remind you why you chose to travel by yacht. It's the only way to explore them and they do have facilities for boats.
Lefkada: Westward to Lefkas, which forms a kind of inland sea with the mainland opposite, is dotted with tiny islands like Skorpios and Madouri. This east coast is extremely popular with sailors and has the advantage of being protected from the occasional strong westerlies. Vasiliki and Nydri both offer safe anchorages and well equipped marinas.
Travelling northwards, you pass through the canal that separates Lefkas from the mainland with extreme caution, since it's not very deep and apt to be crowded. But before you leave, check out the island's marina, one of the largest and best organised in Greece, with a capacity of 600 yachts. At Aktion, at the mouth of the Amvracian Gulf, you can stay overnight at Kleopatra marina, near Preveza and only 1.5km from the airport.
Paxi & Antipaxi: The distance from the exit of the Lefkas canal north to Antipaxi is a bit more than 30 n mi. Antipaxi is noted for its extraordinary beaches, which explains the almost constant traffic of yachts offshore as well as boats toing and froing passengers from Paxi just 5 n mi away. The little port of Paxi is unique in the Ionian, invisible until you reach the end of the 'fjord' formed by the islet of Agios Nikolaos in front of it.